CSA Box Sizes and Pricing Information
Which Size Box is Right for Me?
That will depend on a few factors.
How many people are in your household?
How many nights a week do you cook with fresh ingredients?
Are there vegans/vegetarians or those who "don't eat their vegetables" in the house?
The base cost of each box is $19 for Small and $23 for Large*. We do not offer individual boxes for sale; only pre-paid subscriptions.
*There is a small delivery fee at offsite locations, that is dependent on the number of members, and the delivery distance from our Moorpark or Somis location. The box prices are clearly listed when you sign up. Camarillo, Moorpark and Somis do not have delivery fees since they are Underwood farm or facilities.
The small box was designed for small households (1-3 people) or for people that don't eat as much produce and/or don't eat at home as much. A large box can usually feed an average household (3-5 people) that include fresh produce in at least one meal a day. If you find that a small box is not enough you could order two small boxes or switch to a large box, just notify us within 4 days of your pickup day to switch box sizes or add another box.
What's in the boxes? It changes, but the best way to get an idea is to look at our Seasonal Produce page to see what we are currently growing and harvesting. You can also check out In Your Box This Week for a list of box items and a year's history of past boxes.
By eating local foods in-season, you eliminate the environmental damage caused by shipping foods thousands of miles, and you and your family will be able to enjoy the health benefits of eating fresh, unprocessed fruits and vegetables. Buying seasonal produce also provides an exciting opportunity to try new foods and to experiment with new recipes. And it just tastes better!
Sample Small Box
Sample Large Box
Payment Options
The small box is all white in color and shorter than the large sized box.
Here is just a sample of what a spring box may contain, every week is a little bit different as we phase through our seasons.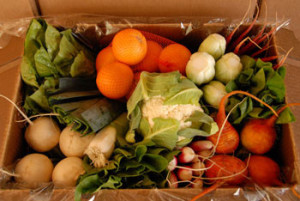 Navel Oranges
White Cauliflower
Spinach
Romaine
Japanese Turnips
Maroon Carrots
Golden Beets
Bok Choy
Leeks
French Morning Radish