Book Your Child's Farm Camp Experience!
Secure your spot today by using our online booking tool!
Do you have a youngster with a budding interest in animals or farming? Have you ever wondered what it takes to grow the perfect strawberry or how to sheer a sheep?
We are now offering an exciting summer camp in which your Little Farmer will interact with a wide variety of farm animals and bring home their very own fruits and vegetables picked straight from our fields!
Your child will also participate in numerous fun and educational craft projects and farm games, with the highlight of the week being an Animal Show put on by the children to educate and entertain their family and friends.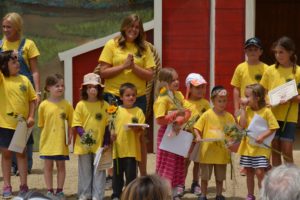 2019 Camp Dates
Week 1: Monday, June 10 - Friday, June 14
Week 2: Monday, June 17 - Friday, June 21
Week 3: Monday, June 24 - Friday, June 28
Week 4: Monday, July 1 - Friday, July 5
Week 5: Monday, July 8 - Friday, July 12
Week 6: Monday, July 15 - Friday, July 19
Week 7: Monday, July 22 - Friday, July 26
Week 8: Monday, July 29 - Friday, August 2
Week 9: Monday, August 5 - Friday, August 9
Week 10: Monday, August 12 - Friday, August 16
Time
Farm Camp Hours: 9:00am - 1:00pm
Failure to pick up child at 1pm will result in a $20 fee per every 15 minutes late
Price
$250.00 per child per week
$225.00 for each additional sibling
Late pick up fee: $20 per every 15 minutes
Age Range
4 - 11 - Campers
12 - 14 - *Junior Camp Counselors
*4 spots ONLY per week. Must have previously attended Farm Camp as a Camper.
All campers must be completely potty trained & able to go to the restroom by themselves

What to Bring & Wear
Campers should bring a sack lunch, a snack, a water bottle and a disposable camera with them each day. Campers should wear a hat, sunscreen & sensible shoes.

Limited Space Available! For More information or to enroll your child, please click on the button at the top of this page.