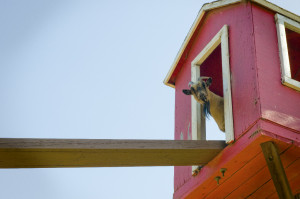 Come and visit our Animal Center. It will provide you and your family with a positive, educational, and fun farm experience. Teach yourself from our educational exhibits, climb the haystack, play in the sandbox, visit the Chicken House, see all the farm animals (donkeys, sheep, goats, chickens, ducks, birds, rabbits, cows, pigs, and horses as well as emus and alpacas) and enjoy the beautiful open space. You can book a Birthday Party for your child at our farm. And you can even see our Farm Animal Show!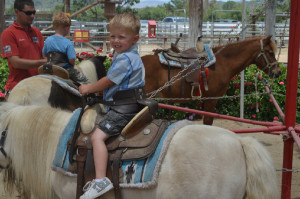 For our young wranglers out there who are under 4' tall and 75 lbs, you can enjoy the experience of riding a real live pony safely led around a fenced enclosure by an attendant. Our ponies are happiest when they are giving rides to the children. Enjoy a photo opportunity with your child riding either Tinkerbelle, Marshmallow, Sox, Candy, Arizona, Rosebud, Chocolate, just to name a few.
Admission to the entire Farm Center is $3.00 Admission on weekends, holidays & weekdays during the Springtime Festival & Fall Festival is $6.00. Springtime Easter Festival weekend admission is $10.00. Fall Festival weekend admission is $15.00 on the first 2 weekends and $20.00 on the last 3 weekends. Children under two years of age and parking are always admitted free.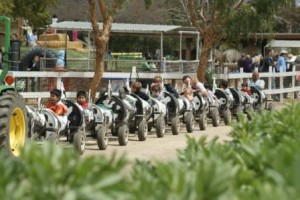 For more detailed information on admission and ticket prices and our Season Pass, please visit the Admissions page. The Moonbounce, Trike Trail, Electric Train, Electric Tractors, Cow Train, Pony Rides and feed for the animals are available for an additional charge. For ticket prices and tickets required per activity, please click here. For a list of rules while at the Farm Center and on the farm, please click here. Please note: Prices are subject to change at any time.
The Animal Show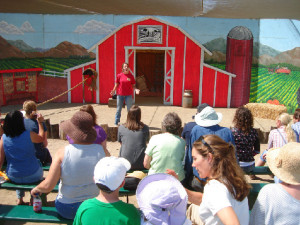 The 25 - 30 minute animal show, exhibiting such farm residents as Lucy the pot-bellied pig, Zippie the mini horse, "Bingo" the dog (AKA Charlie), Rachel, a Suffolk sheep, as well as Bubbles the pygmy goat along with aby pygmy goats Turbo & Butch, takes place in our Animal Center amphitheater and is open to the public with paid admission to the Animal Center.
Other animals in the show include Chubs the rabbit and his baby bunnies, Giblets the turkey, King Henry the rooster, Freckles, a Suffolk lamb, Aloha the Moluccan cockatoo, Buttercup the Holstein calf and Dora & Brain the rats. The show, which is both educational and entertaining, takes place on the weekends at 11:30, 1:30 & 3:30.