The Somis Animal Center is home to sheep, alpacas, chickens, and numerous pygmy goats. They live among a wide variety of citrus trees and are surrounded by fresh grass and picnic tables. Bring the family out for a picnic and to visit the animals. The kids will love the sandbox and wooden fire truck. We are certainly proud of our Animal Center and can't wait for you to experience it first-hand! After shopping, be sure to visit our farm animals. They love to have the company.... okay, they really love the treats!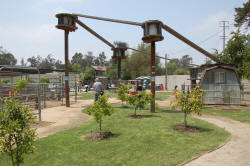 Our crazy goats love to climb, which is why we've built this custom "mountain" for them to venture on to each day.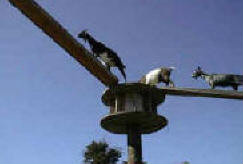 Here they are getting ready to take position on their own overhead.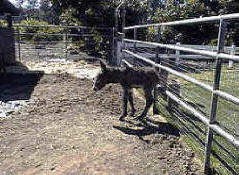 The first baby born at Underwood Family Farms was Jake, a burro. He was born on March 2, 2000, at 5:00 am.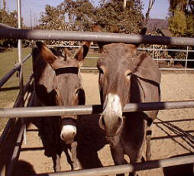 Look how he's grown!! Jake is on the right and his mama, Valentine, is on the left. He's nearly as big as she is now!