Trees on the Farm & Visits on the Lot with Santa
When: November 23 - December 18  (Tree Lot)
Please note: The Moorpark Farm Center is open weekends only November 23 - December 16
Where: Moorpark Location
3370 Sunset Valley Road
Moorpark, CA 93021
Farm Center: (805) 529-3690
Tree Info: (805) 218-0282 or (805) 701-1335
We are thrilled to have Big Wave Dave's Christmas Trees bring Christmas to Underwood Family Farms. Beginning on November 23 - December 18, fresh cut northwest trees as well as mistletoe, wreaths & all the fixings will be available for sale at the farm. Select the perfect tree from a wide variety of freshly-cut Noble, Grand, Fraser, Nordman and Douglas Fir Silver Tip Trees. All trees stand in water from the moment they are cut. Delivery/flame retardant is available as well as many tree and Christmas accessories including stands, wreaths, mistletoe garlands, poinsettias and other home decor.
Visits with Santa! Don't miss visits with Santa Claus among the Christmas Trees. Just 2 weekends only - December 1, 2, 8 & 9 from 11am-4pm. Make sure to bring your camera. Visits are Free!
Underwoods Farm Center & Farm Market Open will be open weekends only the day after Thanksgiving - Sunday, December 16 from 9am - 5pm.  Admission to the Farm Center on weekends is $6.00/per person and children under 2 free. Tractor rides & the Animal Show are included with paid weekend admission.
The Farm Center will be closed for the season on Monday, December 17 and will re-open on March 1, 2019.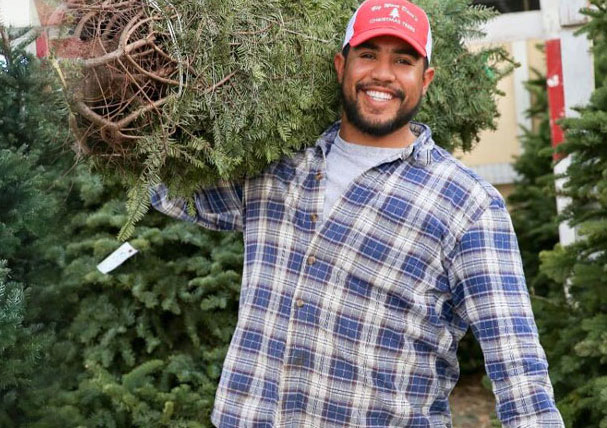 *Christmas Trees from Big Wave Dave's Christmas Trees are available 7 days a week beginning November 23 through December 18 from 9:30 am - 7:30 pm. For more information, please visit their website.